Roll over image to zoom in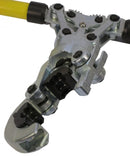 HYDRAFORE F-32S
16-32 mm Mechanical crimping pliers for composite pipe and fittings TH profiles
Technical parameters:

Model:

F-32S

Crimp stamps (mm):

16, 20, 25, 32

Stamp type:

TH profiles

Operation:

manually

Weight (kg):

5

Shipping volume (cm):

62x42x24
- 360° rotatable head
- Extendable lever arms
- Material: steel
Scope of delivery:
- Pressing pliers
- 4 crimping dies TH16 - TH20 - TH25 - TH32.
- Plastic case
(We can only deliver with TH profile. Unfortunately we don't have any other press jaws.)
Pipe crimper is suitable for this pipe system:
AC-FIX press, Barbi Multiplex, Climatek Clima Therm, Fimisol Hakapress, FRIATHERM uni, general equipment Flex Press, Haka, Gerodur Hakapress, Hunter Aquapress, Ma.System, PRESSMASTER, Megaro Hakapress, OMT heating systems, Oventrop Cofit P , Pietro Ravani SpA Push Me, Polytherm Polifix, Prandelli Multyrama, Remo, Riquier a Sertir, Roth, Slovarm Pex-Therm,
System Welco Flex, Thermolutz, TKM Fellingsbro, Ulrich, Varioflex Hakaflex, Valsir Pexal, Wefa Kunststoff Wefatherm, Wirsbo-Velta
Payment & Security
Your payment information is processed securely. We do not store credit card details nor have access to your credit card information.
You might also be interested in