Roll over image to zoom in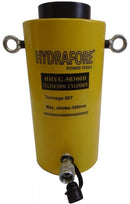 HYDRAFORE
Telescopic Cylinder (50 Ton, 300mm) (YG-50300D)
B-stock!
Checked and cleaned. There are surface scratches or paint damage
possibly packaging or delivery case damage available!
Scope of delivery complete. Full manufacturer warranty.
HH-2/M coupling sleeve is included in the price.
Hydraulic sleeve type: HH-2/M
Connection thread: 3/8" NPT
This cylinder does NOT have a return spring.
Material: steel
Technical parameters:

Model:

YG-50300D

Pushing force (tons):

50

Stages:

2

Stroke (mm):

300

Oil volume (cm3):

3800

Height (mm):

350

Height extended (mm):

650

Outside diameter (mm):

170

Piston diameter (mm):

Level 1: 135
Level 2: 95

Recommended pump:

B-630C

Weight (kg):

68

Shipping volume (cm):

22x22x40
Payment & Security
Your payment information is processed securely. We do not store credit card details nor have access to your credit card information.
You might also be interested in