Roll over image to zoom in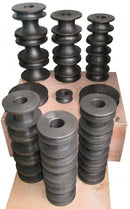 HYDRAFORE W-G76
Multifunctional tube bender
diameter 16-76mm; up to 2mm
[] 16-50mm; up to 2mm

Quickly create large radius arcs and complete circles.
It is particularly suitable for the operation of steel greenhouses.
Able to bend thin round stainless steel tubing, thin square tubing and soft steel tubing.
Manual adjustment of the upper shaft, two drive shafts and one driven shaft
If the pipe needs to be bent into a circle, the circle diameter must be more than 20 times the pipe diameter.
Electric operation, the motor can be equipped with 220V/50Hz
The mold is cast from special steel and has a long service life.
The product and mold are placed in a wooden box.
Configure the round and square tube shapes.
Technical parameters:

Model:

W-G76

electrical voltage

220-230V/50Hz (1.5kW)

Pipe bending rolls (

mm):

16, 19, 22, 25, 32,

38, 51, 63, 76

Angle iron bending rolls (mm):

16, 19, 22, 25,

30, 38, 40, 50

Tube wall thickness (mm):

0.5-2

Weight:

250.0kg

Shipping volume:

73x63x103 cm
Payment & Security
Your payment information is processed securely. We do not store credit card details nor have access to your credit card information.
You might also be interested in