Roll over image to zoom in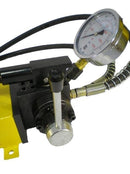 HYDRAFORE B-700S

Double-acting hand pump with pressure gauge
Technical parameters:

Model:

B-700S

Operation:

Double-acting, 2-stage

Oil performance at low pressure
( cc /cycle):

13

Oil performance at high pressure
( cc /cycle):

2.3

Maximum pressure (Bar):

700

Oil quantity (cm 3 ):

3000

Weight (kg):

21.0kg

Shipping volume (cm):

73x24x27 cm
Introduction:

Maximum working pressure: 700bar

Two stage hydraulic design

steel construction

Large fuel tank for a variety of uses

Characteristics:

Steel construction, sturdy and durable.

Two stage hydraulic design for increased productivity.

Built-in safety valve to protect against overload.

Convenient fuel filler neck design.

HYDRAFORE B-700S with manual four-way valve, dual circuit design,
configuration pressure gauge;

The square fuel tank offers a large capacity and a wide range of applications.

Equipped with 1.8 m high-pressure hose and quick coupling R2 3/8 and
dust cap.
Hose and hydraulic connector are included in the price.
Pump is filled with hydraulic oil.
Hydraulic oil: Normal hydraulic oil with 32 viscosity.
Hydraulic connector type: HH-2/V
Connection thread: 3/8" NPT
Payment & Security
Your payment information is processed securely. We do not store credit card details nor have access to your credit card information.
You might also be interested in